PHOMEIN CSR
We strive to make a heartwarming day and build a heartwarming world for all through our steaming bowls of soup.

We continue to share in relief activities for the children of underserved households and
developing countries to realize ethical management as a trusted member of society.
Community outreach activities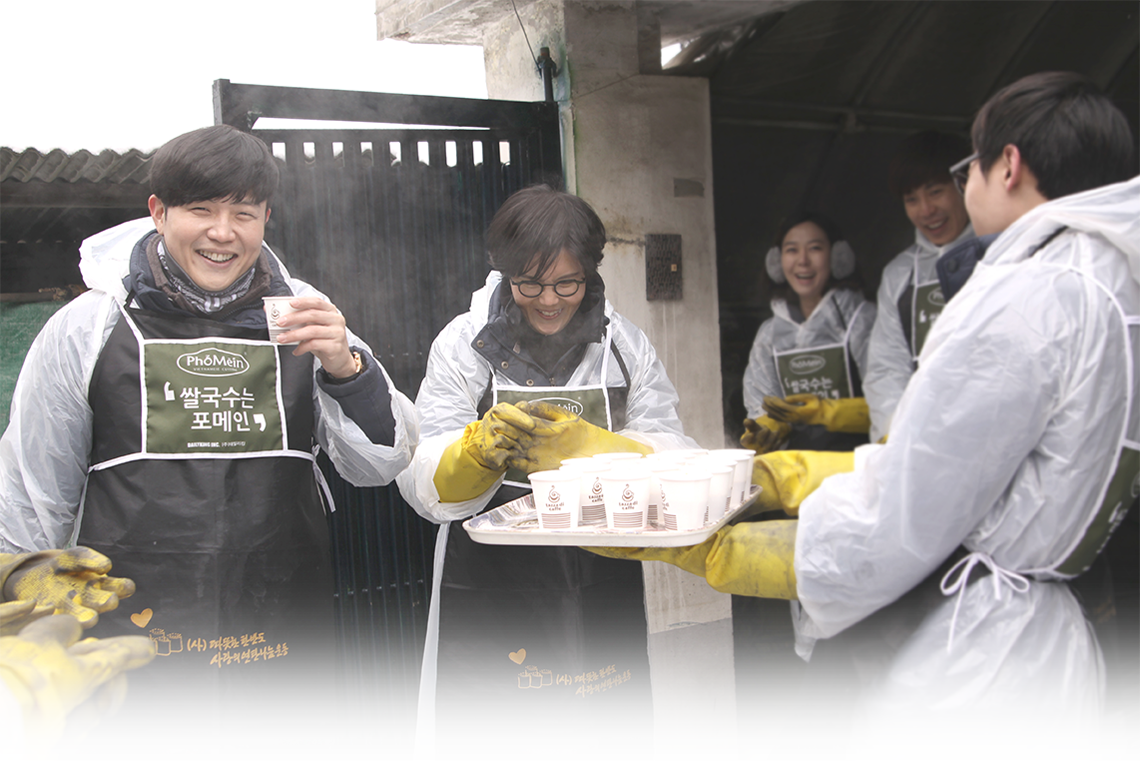 Delivering donations to UNICEF

We concluded a donation agreement with UNICEF
for the first time in the industry and held a ceremony
to deliver 10 million won relief funds for children to
UNICEF in hopes of reaching out to poverty-stricken
children around the world.

Volunteering for the "Sharing Love
through Briquettes" campaign

All our employees participated in the "Sharing Love
through Briquettes" campaign to donate 5,000 briquettes
and deliver 1,500 of them door-to-door to underserved
families in Geumto-dong, Seongnam.

Volunteering with Habitat for
Humanity

Our employees participated in building safe and affordable
homes for low-income families in need of housing
to help them achieve stability and independence.

Sponsoring Habitat for Humanity

We made donations with our executives to provide aid
for low-income households in need of housing and
delivered the funds to Habitat for Humanity.

Delivering Happy Present Boxes to the
Regional Childcare Centers of Seongnam

We delivered 100 Happy Present Boxes packed and wrapped by
our employees to three Regional Childcare Centers of Seongnam
and made and shared Vietnamese spring rolls with children.

Participating in the
"Knit Hats for Newborns" campaign

PhoMein employees and franchise owners participated
in knitting hats to help maintain the body temperature of
underweight and undernourished infants and keep them
safe and donated over 200 hats to Save the Children.

Donating to help earthquake victims
in Pohang

We conducted PHO U x 4, a campaign to collect donations
for earthquake victims in Pohang, via our official Facebook page
and donated an amount 4x higher than the actually collected
funds to Hope Bridge.

Staging Pho Ever 2018 for job
experience and mentoring

We staged Pho Ever 2018 in association with Global Vision,
which is an event designed to enable youth in need of
employment support to gain hands-on experience of jobs
at PhoMein and receive mentoring.

Donating 4,536 boxes of Fresh
New Harvest Rice Noodles

Before showcasing Fresh New Harvest Rice Noodles developed
with our exclusive technology, we donated 4,536 boxes
of the noodles, worth KRW 180 million, to underserved and
marginalized groups.